Welcome to CDA Slammers FC — North
CDA Slammers FC North. Our club takes great pride in its achievements and we encourage you to come see for yourself what we have to offer you.
Our teams are listed below, and you can scroll to the bottom to find our online tryout registration.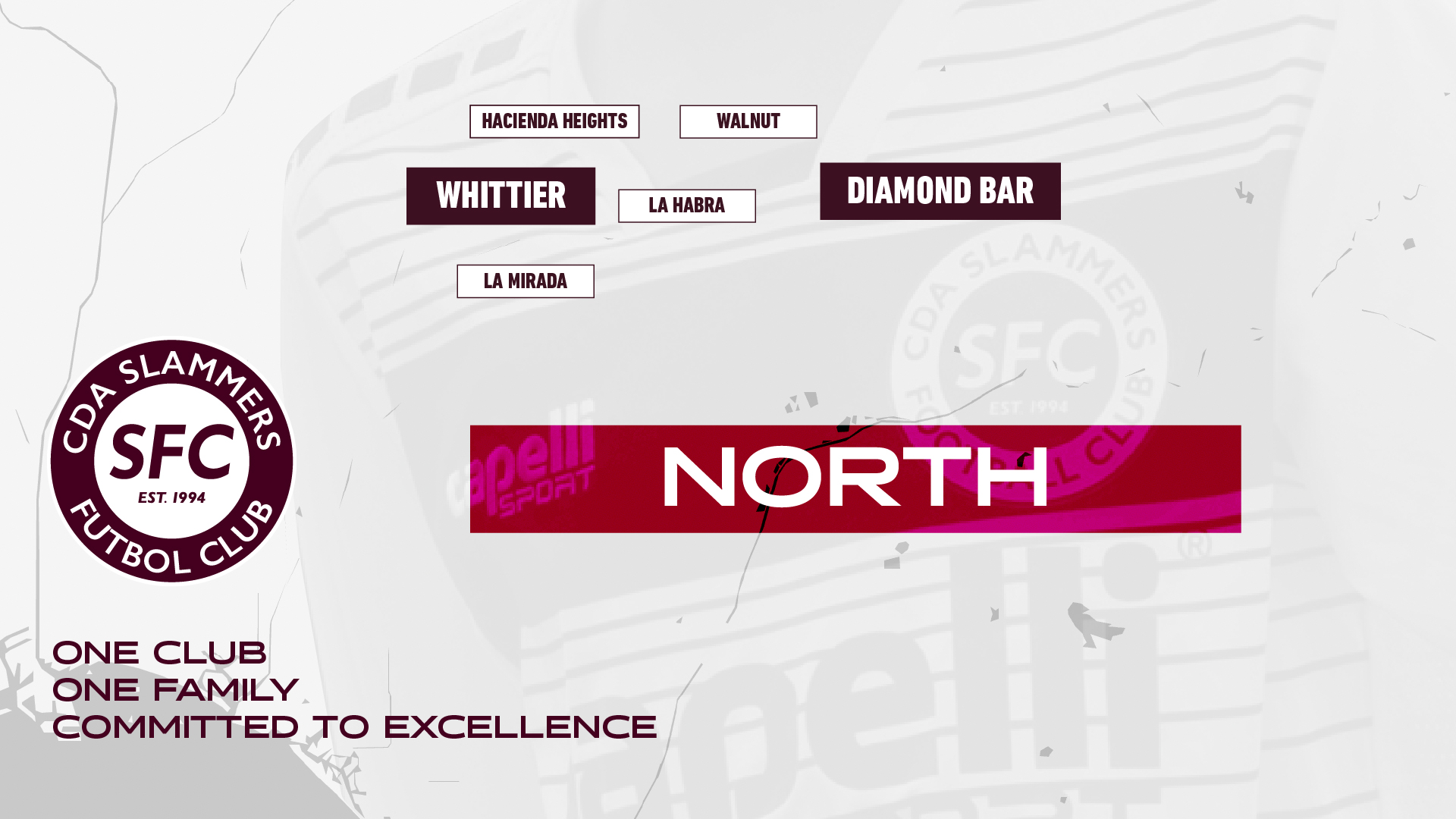 TEAMS
COACH
LIL Slammers Clinics
2019, 2018 & 2017
Kriss Flores
kriss7@icloud.com • 714-401-3849
Girls 2016
Flight 3
Michael Contreras
michaelcontreras.coach@gmail.com • 562-320-1471
Girls 2015
Flight 1
Jonathan Prieto
Prieto19joni@gmail.com • 562-322-6419
Girls 2014 Maroon
Flight 2
Izzy Garcia
izabelle_garcia333@aol.com • 562-293-6025
Girls 2014 White
Flight 3
Izzy Garcia
izabelle_garcia333@aol.com • 562-293-6025
Girls 2013
Pre-ECNL
Zach Bautista & Mike Sutton
zachbautista10@yahoo.com • 714-742-8576
Girls 2013
Flight 1
Kriss Flores
kriss7@icloud.com • 714-401-3849
Girls 2013
Flight 2
Abraham Gomez
a.gomez.1052@gmail.com • 909-242-4288
Girls 2013
Flight 3
Jesse Castillion
jc2608779@gmail.com • 562-260-8779
Girls 2013
Flight 3
Felipe Valencia
fvalenmsw@gmail.com • 714-909-4576
Girls 2012
Flight 1
Kriss Flores
kriss7@icloud.com • 714-401-3849
Girls 2012 Maroon
Flight 2
Hugo Gonzalez
yuguis10@hotmail.com • 909-609-6574
Girls 2012 White
Flight 3
Hugo Gonzalez
yuguis10@hotmail.com • 909-609-6574
Girls 2012
Flight 3
Michael Contreras
michaelcontreras.coach@gmail.com • 562-320-1471
Girls 2011
Flight 1
Kriss Flores
kriss7@icloud.com • 714-401-3849
Girls 2011
Flight 1
Todd Elkins
todd.p.elkins@gmail.com • 626-394-9017
Girls 2011
Flight 2
Mike McCarty
michael.mccarty21@gmail.com • 323-833-8211
Girls 2011
Flight 2
Anton Jamir
antonjamir09@gmail.com • 949-550-9377
Girls 2010 Black
NPL Discovery
Mike McCarty
michael.mccarty21@gmail.com • 323-833-8211
Girls 2010 Maroon
Flight 2
Mike McCarty
michael.mccarty21@gmail.com • 323-833-8211
Girls 2010
Flight 2
Andy Arroyo
ndy_arroyo@yahoo.com • 714-317-2789
Girls 2010
Flight 3
Mike Knaus
mknaus@bousd.us • 714-420-5625
Girls 2009
Flight 1
Kyle Thomas
coachkylethomas@gmail.com • 714-707-0052
Girls 2009
Flight 3
Brianna Banda
bandabrianna97@gmail.com • 562-201-8086
Girls 2008
NPL Discovery
Alfredo Tapia
alfredotapia0203@yahoo.com • 909-541-0500
Girls 2008
Flight 1
Kyle Thomas
coachkylethomas@gmail.com • 714-707-0052
Girls 2008
Flight 2
Mike Knaus
mknaus@bousd.us • 714-420-5625
Girls 2007/06
NPL Discovery
Christy Gravitt
christykillingsworth@yahoo.com • 310-489-6261
Girls 2007/06
Flight 1
Mike Sutton
mikesutton@sbcglobal.net • 562-773-4867
Girls 2005/06
DPL
Kriss Flores/ Chris Paniagua
cdapaniagua@gmail.com • 714-743-4217
Girls 2005/06
NPL Discovery
David Carrillo
dcarrillo@abamoriah.com • 714-376-0226
Girls 2005/06
NPL Discovery
Tim Strader
timothy.d.strader@gmail.com • 714-519-8187
Girls 2005/06
Flight 1
Kendra Reif
kendrareif@icloud.com • 760-831-4053
Girls 2005/06
Flight 2
Matt Franco
mattfranco6@gmail.com • 626-826-7626
TEAMS
COACH
LIL Slammers Clinics
2019 & 2018
Kriss Flores & Zach Bautista
kriss7@icloud.com • 714-401-3849
Boys 2017
Flight 2
Ernie Serratos
eserratos@verizon.net • 323-804-2851
Boys 2016
Flight 3
Ernie Serratos
eserratos@verizon.net • 323-804-2851
Boys 2015
Flight 1
Benny Rogers
btrrogers84@gmail.com • 562-708-7220
Boys 2014
Flight 2
Alex Haro
alejandroharo1712@yahoo.com • 562-332-7559
Boys 2013
Pre-ECNL
Gedi Butrimavicius
butre8@yahoo.com • 714-675-1655
Boys 2013
Flight 1
Victor Quiroga
vic_qui@yahoo.com • 714-478-6805
Boys 2013
Flight 2
Alfredo Tapia
alfredotapia0203@yahoo.com • 909-541-0500
Boys 2012
ECNL-RL
Chris Paniagua
cdapaniagua@gmail.com • 714-743-4217
Boys 2012
Flight 1
Mario Trujillo
mtrujillo1959@gmail.com • 562-544-9064
Boys 2012 White
Flight 2
Mario Trujillo
mtrujillo1959@gmail.com • 562-544-9064
Boys 2011
ECNL-RL
Chris Paniagua
cdapaniagua@gmail.com • 714-743-4217
Boys 2010
Flight 1
Mario Rodriguez
mrodriguez201511@gmail.com • 562-458-5863
Boys 2009
Elite 64
Ismael Valdez
ismael.valdez005@yahoo.com • 714-688-6496
Boys 2009
Flight 1
Anton Jamir
antonjamir09@gmail.com • 949-550-9377
Boys 2009
Flight 1
Victor Quiroga
vic_qui@yahoo.com • 714-478-6805
Boys 2009
Flight 2
Victor Quiroga
vic_qui@yahoo.com • 714-478-6805
Boys 2008
ECNL-RL
Chris Paniagua
cdapaniagua@gmail.com • 714-743-4217
Boys 2008
Flight 1
Pete Orosco
porosco1@gmail.com • 949-466-9338