Boys and girls born 2010–2017 are invited to join us Dec 27 & 28 — 9 AM to 12 PM each day — at BIOLA University's beautiful turf stadium for CDA Slammers FC Winter Camp!
Professional coaching staff
Players grouped by age and skill level
Lots of touches and playing time
$95 total camp cost.
Questions? Email us at CDACamps@gmail.com! See you there!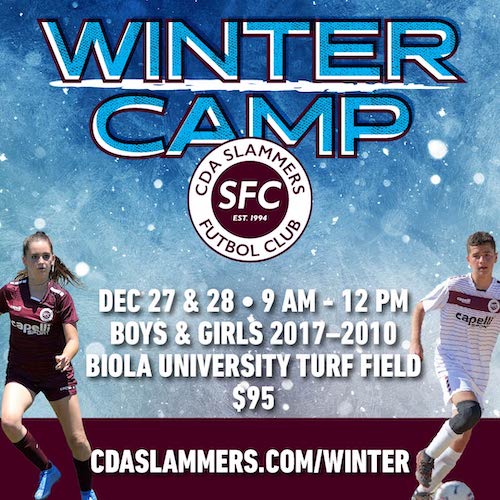 CDA SLAMMERS FC CAMP DISCOUNTS & REFUND POLICY
SIBLING DISCOUNT: Receive $15 off for each additional child registered. Must register at the same time to qualify for discount. If registering 1-2 siblings, use code SLAMFAM15 for $15 off. For 3 or more, use code SLAMFAM30 for $30 off.
BRING A FRIEND DISCOUNT: Your friend will receive $10 off and you will receive $5 off for each friend invited (up to five friends/$25 off). Each friend needs to be a person who has never participated on a CDA Slammers FC Team or the CDA Slammers Junior Academy program previously. In order to receive the "Bring a Friend Discount" you must email CDACamps@gmail.com to qualify and then obtain a promo code.
GROUP DISCOUNT: 1 FREE REGISTRATION per group of 7–10 players. Groups must all register together under one Group. You can split the discount however between any campers you decide. Email CDACamps@gmail.com to register. Note: Players need to be in the same division. Your group will stay in your own formed group all week with the exception of during "World Cup" where teams change daily as we recreate a draft setting for overall competitiveness.
REFUND POLICY: Cancellation requests received no later than two days prior to the beginning of camp will receive a refund minus a $15 admin fee. Cancellations due to COVID regulations will receive a full refund.